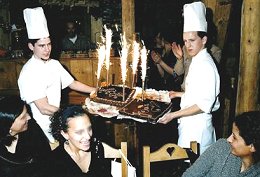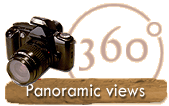 All of us here at Le Caveau are happy to host your
seminar
or
party
.
The room arrangements
preserve your intimacy
: we can accommodate small groups or large.
It is also possible under certain conditions to reserve the entire room for your private party. We can welcome up to 110 people.
Here are some enterprises that have made us confidence for the organization of their seminar: SCHWARZKOFF, FRANCE TELECOM, ING ASSURANCE, JANSEN, FRANCE TELEVISION, GPA ASSURANCE, BANQUE CIC, TOSHIBA, MIKAEL PAGE, NIKU, SALOMON, KAUFMAN, INTERBANCARIO, LABORATOIRE UPSA, BRAUN, HENKEL, GAN ASSURANCES...
We'd like to suggest these Menu Options and the Chef will consider any particular requests:
The "Farmer" Menu

(served for 30 maximum persons)

Regional Snails in "Croquilles"

crusty edible shells



Royal Pierrade


(beef, filet of duck, veau, turkey) cooked on hot stone with a variety of sauces and French fries



Green Salad with walnuts Dessert





The Country Menu

(served for 15 maximum persons) Beef Fondue

in spicy red wine, served with French fries and sauces



Green Salad with walnuts

Dessert






The "Valaisan" Menu

Raclette

served with a variety of cold pork meats,

baked Potatoes and condiments



Green Salad with walnuts

Dessert






The Rustic Menu

(served for 30 maximum persons) Regional cold cuts
Tartiflette

Potatoes cooked with bacon, cheese,

walnuts and onions



Green Salad with walnuts

Dessert

The Savoisian's Menu

(served for 30 maximum persons) Cheese Fondue

served with a variety of dried meat,

cold pork meats



Green Salad with walnuts

Dessert

The Alpine Menu

La Poelee des Alpages
Typical Alpine dish prepared on your table : Onions, white wine and Reblochon cheese served with meats of "Grison", cured ham, jacket potatoes, garnishes.

Green salad with walnuts

Dessert






The Savoyard's Menu

(served for 70 maximum persons)

Gourmand's Pierrade
(Beef, filet of duck, filet of turkey and veal) served with French fries and the chef's sauces OR
Raclette
the melted cheese is scraped onto your plate and served with meat of "Grison", a variety of cold cuts, boiled potatoes in their skins, condiments

green salad with walnuts

dessert